Phil Freelon
Phil Freelon (1952 – 2019) is the founder of The Freelon Group, originally a small firm based in Durham North Carolina, recognized for their ability to fill otherwise mundane spaces with both beauty and pragmatism. In 2014 Freelon's firm joined Perkins+Will, with Freelon assuming responsibility as the managing and design director of the Perkins+Will Charlotte and Research Triangle Park offices in North Carolina. Ranging from a small library in Washington D.C. to all of Houston's Emancipation Park, Freelon's projects vary greatly in scale and program, but all encapsulate his commitment to instilling a building's occupants with a sense of dignity. Whether it be the Museum of the African Diaspora in San Francisco, or the Durham County Human Services Complex, Freelon privileges the experience of the users and extends his design process from their needs.
Recently, Freelon's design practice has made an indelible mark on the National Mall. In 2007 Phil Freelon and J. Max Bond Jr. (of Davis Brody Bond Aedas) were chosen to complete the planning and pre-design for the Smithsonian's National Museum of African American History and Culture. This preceded the museum's international design competition, which was won by the team of Freelon, Bond, David Adjaye (Adjaye Associates) and Hal Davis (SmithGroupJJR) in 2009. Serving as architect of record, Freelon claims that this is a project he has been preparing for his entire life. The five hundred-million-dollar undertaking draws on several artifacts as inspiration for its form and fabrication on the five-acre site. Mirroring the slant of the Washington monument at seventeen degrees, the three tiers of the building reach upward and outward, like Yoruban caryatids or arms outstretched.
The structure's long, monumental overhang on ground level provides shading and a sense of enclosure, nodding to importance of porches in African American history and culture. The skin of the building is conceptualized as a corona; 3,600 bronze coated aluminum panels, inspired by the lasting iron lattice work of southern slaves, stitch together to foster a delicate infiltration of light. Sitting proud of transparent glass, the filigree transforms the building in different lighting conditions. As Mabel O. Wilson explains in her book, Begin with the Past: Building the National Museum of African American History and Culture, "The Corona's metallic carapace shimmers reddish-gold, deep sepia, or copper in the changing light, a dazzling tribute to African American contributions to American craft and building."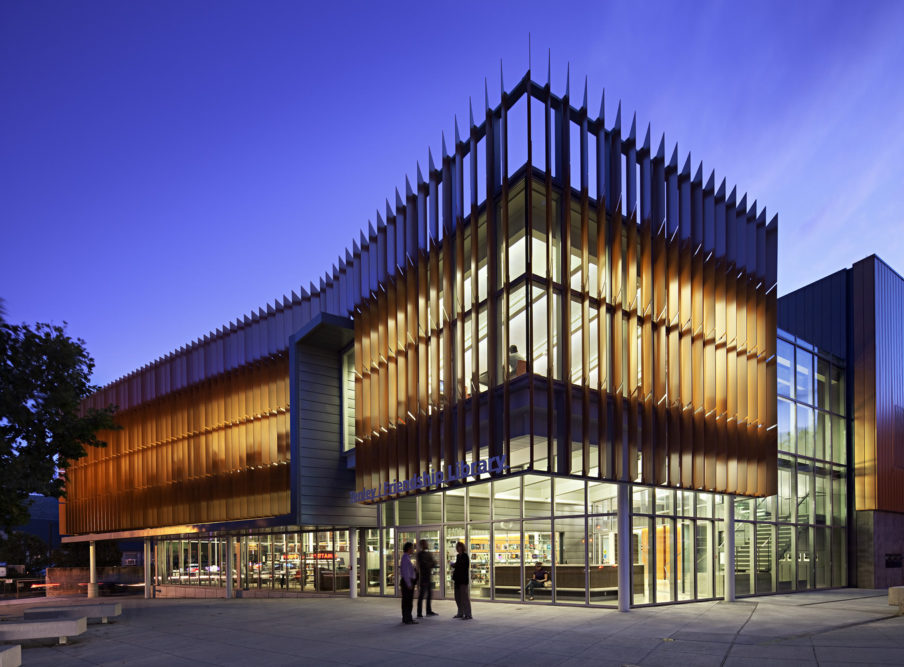 Freelon's impact on African American architecture often manifests through his built designs, but he also works as a role model for middle, high school, and college level students. In 2016 Harvard's Graduate School of Design announced The Phil Freelon Fellowship Fund, made possible by Freelon and Perkins+Will to provide financial assistance to under-represented students to further diversity in the discipline. The same year Freelon was diagnosed with Amyotrophic Lateral Sclerosis, prompting his establishment of The Freelon ALS Fund, which raises money for contribution to the Duke ALS Clinic.
Education
Phil Freelon attended Hampton University from 1971 to 1973. He received a Bachelor of Environmental Design in Architecture from North Carolina State University in 1975, and his Master of Architecture degree from the Massachusetts Institute of Technology in 1977. Freelon completed a Loeb Fellowship at Harvard's Graduate School of Design in 1990, where he occasionally lectures. While Phil Freelon is currently on the faculty at MIT's School of Architecture and Planning, he has taught at a variety of institutions that include the North Carolina State University's College of Design, University of California, Berkeley and University of Virginia. Freelon is a Fellow of the American Institute of Architects, and in 2009 the AIA awarded Freelon their Thomas Jefferson award for Public Architecture. The following year AIA's North Carolina Chapter awarded Freelon their Gold Medal, and in 2012 former President Barack Obama appointed Freelon to the U.S. Commission of Fine Arts.