The August Wilson Center
The space accommodates a 490 seat theater, dance studio, and over 10,000 square feet of gallery space and meeting rooms. The August Wilson Cultural Center has an annual Jazz Festival, that's currently just had it's 9th cycle.  It's seen as a signature program of the Cultural Center, which is a full event featuring free outdoor concerts and ticketed shows inside the center.  Other events at the Cultural Center are "Seats of Power" an exhibition that pays tribute to "prominent and unsung heroes, mentors, and sources of inspiration that echo stories of the past, present, and future," as well as "Race and Revolution: Still Separate — Still Unequal," a new art exhibition that examines racial and economic divides in U.S. public schools.
The project originated as an "urban in-fill" project that added to Downtown Pittsburgh's cultural legacy by honoring Pittsburgh native, Playwright August Wilson.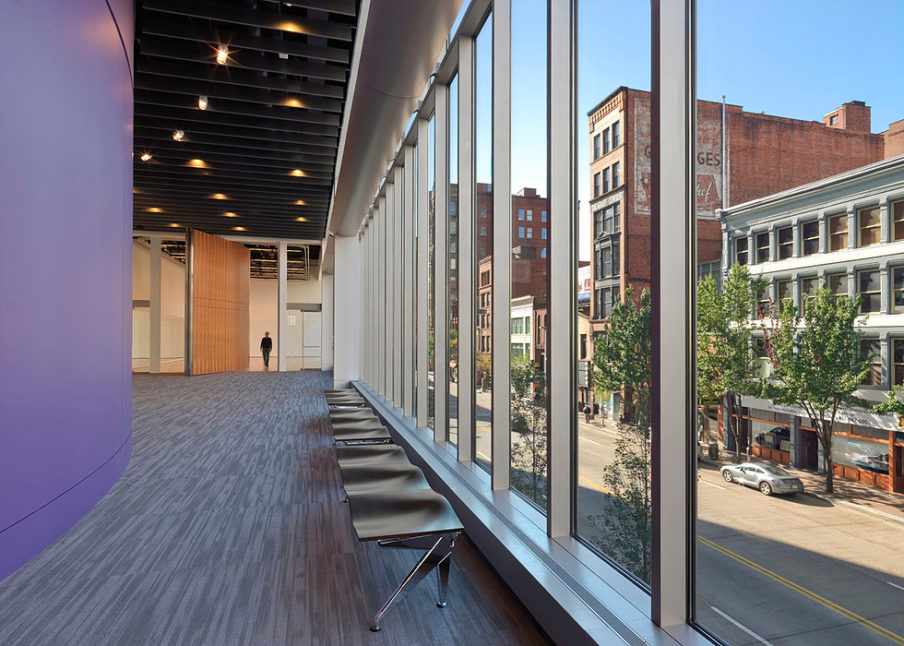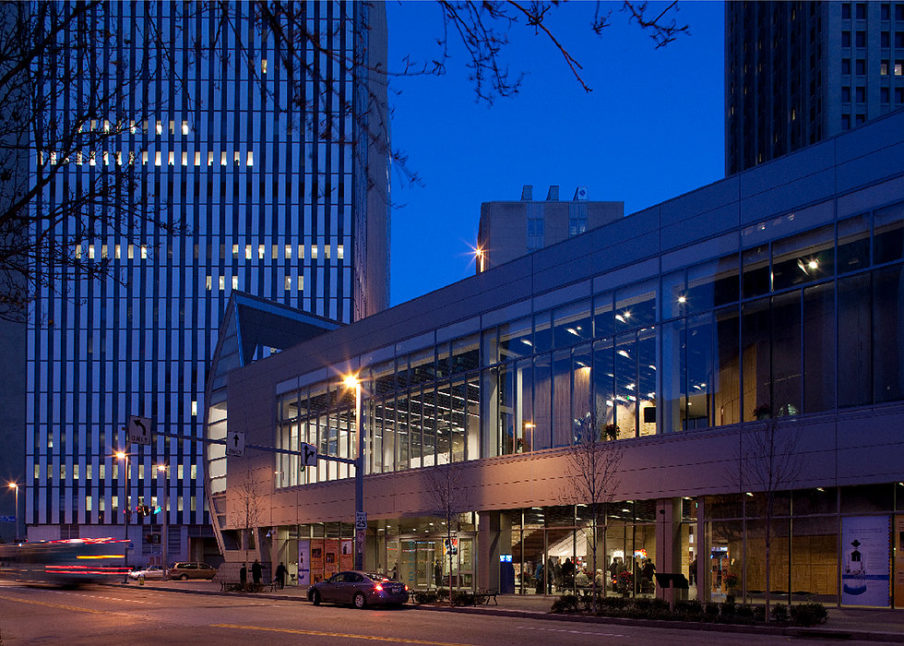 To acknowledge the significance of the street as common space and as a stage for urban life, the sidewalk slides into the building connecting the street level uses. Open ceilings with linear baffles, ceiling rigging, graphic scrims and sealed concrete floors establish a functional theatrical aesthetic. The second level overlooks the street, porch-like, and two large pivot doors subdivide the long space yet allow crowds to move fluidly between spaces during events. The highly controlled exhibition galleries absorb the triangular site geometry and are situated between William Penn and the sloped stone wall illuminated at night and glowing with abundant indirect north light during the day. The formal stair moves against the stone wall and is the zipper between the galleries and flexible spaces that extend along Liberty Avenue. The south east facing William Penn façade is windowless activated with a glowing light strip and processional banners. The regal purple drum-shaped theater dowels the two floors together.
​The commission was awarded in an invited design competition, achieved LEED Certification and was delivered for $22,500,000 in 2010.
​
​by Allison G. Williams FAIA while Design Principal with Ai