Calexico West Land Port of Entry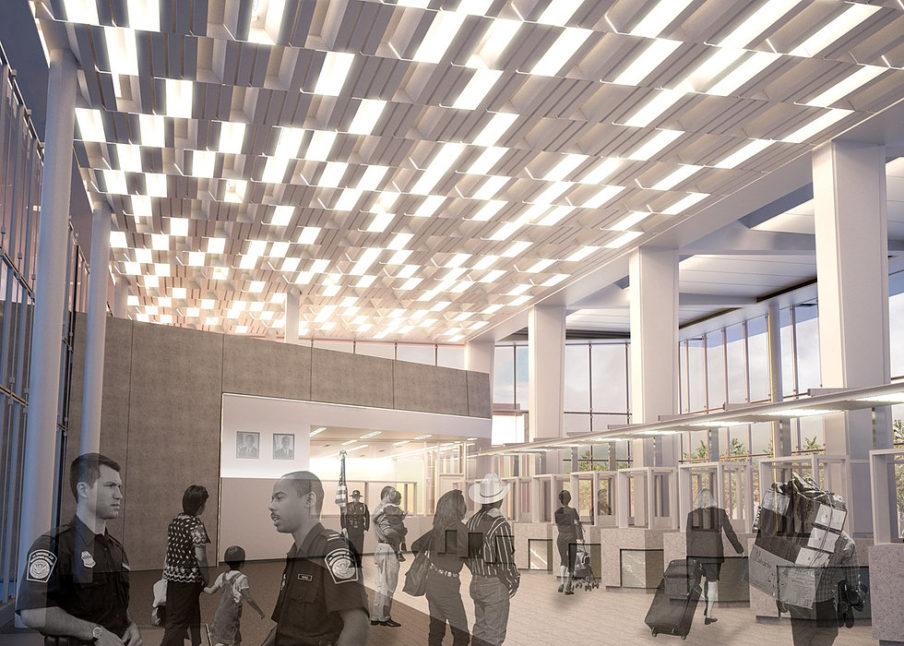 Client Program, Objectives + Features
The project includes demolition, realignment, relocation, and new construction at the existing site of Calexico Port of Entry.    Two-way flow of traffic through the border station will be realigned, expanded, and optimized. Close to 35,000 vehicles and 20,000 pedestrians cross the border in both directions each day and the existing inspection booths are insufficient to adequately serve the current daily border traffic.  The border station will remain in operation throughout the construction phase of the project. The design meets the federal design standards for secure facilities and conformance to the P100 for public buildings.
The program is housed in a series of narrow rectangular buildings ranging from 1 to 4 stories and aligned strategically within the site geometry complicated by intense topography, the New River embankment, an active rail road alignment that bisects the site and the existing facility which will be incrementally demolished. Canopies are essential for human comfort across the site:  31,000 SF pre-primary canopy, a 28,000 SF canopy at the primary inspection booths and a 75,000 SF secondary canopy. The basement level under the roadway (and the railroad tracks) connects the vehicular primary and secondary canopies is a 45,000GSF space shelled for a future southbound secondary inspection.
Project Overview
Design Completion:  2012
Funding:  2014 (Traditional Design Bid Build Delivery)
Construction Complete: Phase I – 2019
Construction Cost: $230,000,000
Building Area: 117,000 gsf
Canopy Area: 134,000 gsf
Total Built Area:  251,000 gsf (plus site development area)
Target: LEED Gold Certification.
by Allison Grace Williams FAIA,  Lead Designer while Design Principal at Perkins+Will)
Source
Images Provided by Allison Grace Williams